---
---
Jeff Sundin Fishing Report August 6, 2019 "Calm Seas on Red Lake: Closest Thing There Is To Guaranteed Success"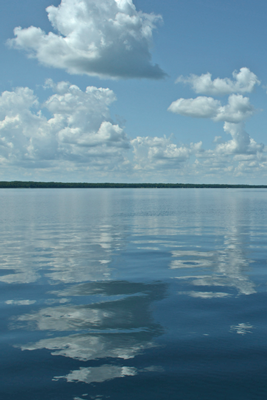 A few weeks ago, I wrote a report about Upper Red Lake. In it, I mentioned the importance, at least to me, of avoiding fishing on the big lake during periods of turbulent weather. If you can hold off fishing there until after calm conditions give the lake time to settle down, you're a lot more likely to enjoy a great fishing trip, especially during mid-summer.
It wasn't long after that report that the weather turned turbulent, offering up few, if any chances to prove the theory; until last weekend.
While I was doing my best to scrounge up a few stray walleyes in some of Itasca County's clear water lakes, friends of mine were on Upper Red Lake crushing walleyes; yes, I did use the term crushing.
Bill Lundy at Mort's Dock was guiding folks up there and for him; tolling crankbaits on the flats was the ticket. He's been using traditional, shallow running stick baits on lead core line and fishing in water depths average 12 feet. Lundy reported having steady walleye action using the trolling pattern.
On my way home from guiding on Saturday, I crossed paths with Jeff Johnson, who lives just down the street. He had his boat in tow and was on his way home from guiding some folks on Red Lake. "The bite was good up there, everybody on the lake was catching fish"; he said.
Johnson told me that while other anglers were catching fish trolling, his crew caught their fish using jig and minnow presentations. "There were quite guys trolling spinners and they were catching lots of fish. But there's just something fun about catching fish jigging; it's my favorite way to catch them;" he added.
I know the reports are still only anecdotal stories from the lake. But in my opinion, the body of evidence weighs heavily in favor of my original theory. Walleyes on Upper Red Lake seem to scatter out horizontally during periods of windy, turbulent weather. We could probably catch some of them, but when they're scattered like that, it's hard to find them in any sort of concentrations.
When the water calms, first the baitfish and then the walleyes begin gathering around structure and become increasingly easy to target.
The water, especially during mid-summer is so turbid that it doesn't matter to the fish if it's sunny and calm or not. In fact, one could argue that anglers actually need the sunshine and calm seas to help make their presentations easier for fish to locate and strike.
I can't always choose the lake I fish on; sometimes my customers make that decision for me. But if I could fish anywhere I want, on any day I want, then for the rest of this summer, I'd choose to be on Red during all of the warm, sunny and calm days. For most of the 2019 season, this has been the closest thing there is to a "guaranteed pattern."

— Jeff Sundin 218-245-9858 or EMAIL
---
Jeff Sundin Fishing Report July 15, 2019 "Productive Fish-A-Roo Opener At Upper Red Lake"
There are milestones that help in measuring the progress of every season. The one that best signals the arrival of mid-summer is when the Daikin "Fish-A-Roo" starts up.
The annual event hosted by the Daikin Company, the "Fish-A-Roo" takes place at Williams Narrows Resort on Cutfoot Sioux. Every year the company treats customers and sales reps to the fishing trips and it takes about 10 fishing guides to get everybody in on the action.
On Sunday, catching walleyes for the evening fish fry was the overriding concern and recently, the best way to guarantee walleyes in the creel has been to head for Upper Red Lake. The weather forecast was perfect for fishing the giant lake, so most of the group, including me, took their crews there.
When we arrived at Mort's Dock on the south side of Red Lake, Bill Lundy advised me that fishing had been "spotty" over the past few days. Some anglers were filling out, some were struggling, but most were coming in at least with enough fish for a meal.
The water temperature was 74.5 degrees and the visibility was low. A fairly heavy algae bloom was responsible for the low water clarity and according to Lundy; the south end of the lake is currently murkier, than is the north end. He advised that there have been good catches coming from the north side of the lake. He's been guiding customers up there recently and my sense is that he'd share more information with you if you were inclined to give him a call. >> Contact Mort's Dock on Upper Red Lake
Each of the guides had their own ideas about where to fish and each of us took our crews to slightly different territory. Typical of an event like this, the tally varies from boat to boat throughout the day. But by the time everyone arrives back at the resort, most everyone in the group ended with their legal allotment of fish.
As far as I know, all of the guides were trolling and typically, spinners are the most common lures used. In fact we began our day trolling the old reliable Little Joe Spinners tipped with minnows. But it wasn't until we switched over to Lindy Li'l Guys that the fish really started snapping. In the murky water, the 1 inch Firetiger color with a whole night crawler strung between its 2 hooks made a noticeable difference.
The Li'l guy has developed a great reputation for trigging fish to strike in lakes with low water clarity. In fact, the murkier conditions are, the better these little baits seem to work; at least that's been the case for me.
The secret is to get rigged up right for using them, presenting them is with a bottom bouncer is the best way to do it. That's because the bottom bouncers allow you to manage your depth precisely. Once you get the hang of it, you'll be able to put that lure a few inches above the fish's eyeballs, right where they can see it.
I could attempt to write out every little detail about using the Li'l Guys, but here's a link to a video that will help you get a jump start. View Video >> Catching Walleyes on Lindy Li'l Guy
If you have specific questions about the presentation, don't be bashful, send me an email.
Now that everyone in the group has a good head start on walleyes, most of the guys are looking for some "action". Catching pike, perch, walleye, or whatever strikes next is the goal for my crew; they just want to reel something in. That means I'll be spinning the weeds today, and probably so will some of the others. Whatever happens out there, I'll have an update for you tomorrow.
Oh, by the way, the men that I fished with yesterday mentioned that they'd been out on the boat with Joe Karau during the wee hours of Sunday morning. The trip was intended to be a moonlight tour of the lake but when Joe asked them if they wanted to wet a line, it turned into a walleye fishing trip.
Trolling crankbaits in 14 feet of water, it didn't take long for the action to start. In fact these guys reported that there was a walleye hooked up on the first line before Joe ever had a chance to get the second one in the water.
Their largest fish was 25-1/2 inches, they also caught one keeper, a 17 inch fish and they reported catching numerous fish in the 21 to 22 inch range.

— Jeff Sundin 218-245-9858 or EMAIL
---
Upper Red Lake Fishing Report July 12, 2019
"Here's a little up date on the shores of upper red lake here in waskish.
We pulled spinners with leeches and fatheads last Saturday and boated about 20 fish. The biggest was a nice 18 inch walleye. Leeches out performed fatheads 8 to 10. I also heard from a few that were pulling crankbaits who also did well. I also heard someone did well with night crawlers too.
The daughter Landed a big sheephead, 5-6 lbs and her hubby landed a real nice goldeye. Plus the grand daughter landed a bonus crappie; elusive, yet still catchable on upper red lake ." — John Halvarson, Cookie's On Upper Red 218-647-8391
---
Jeff Sundin Fishing Report July 7, 2019 "Upper Red Lake Walleye Update"
The week of July 4th has never been a typical work week for me. I've used my daughter, Annalee's Independence Day birth date as an excuse to take a few days off to entertain family, fish a little and re-group between spring and summer fishing schedules.
This year, there was an unusual dimension to the holiday; when the kids arrived, I was sort of boatless. The trailer under my 208 Pro V needed maintenance and I didn't want to risk damage by driving it. At the same time, there was a brand new Alaskan in the garage, but it wasn't completely rigged yet, it still needed the finishing touches.
Thanks to our son-in-law Austin and our daughter Joelle's boyfriend Patrick, we managed to get the boat rigging finished, but not in time to wet a line on the 4th. Instead of fishing, we spent the evening barbequing chicken in the back yard.
On Friday morning, Annalee and Austin joined me to take the Alaskan on its maiden voyage. Because I wanted to focus my attention on working the bugs out of the boat and not trying to locate fish, I decided to make a longer than usual birthday trip. Driving the kids to Upper Red Lake would mean easy fishing and that way I'd have plenty of time to break in the new outboard motor and work out kinks in the system.
For reasons known only to the wizards of micro processing, the new Helix 12 was unable to read my GPS coordinates from the SD Card I'd saved them too. At the same time, I was having problems getting the charts loaded in as well. All of the bugs got worked out easily the next morning, but for a time, we were forced into fishing the old fashioned way, searching for fish without the use of the maps or the GPS coordinates.
Now I know that I can find fish and catch them without using those tools. But I have to tell you that I like fishing with them a lot better than I like fishing without them. It was amazing to me how unsettling it is to KNOW that you're near a good spot, but not be able to go there quickly. It provided a good lesson about how spoiled I've become thanks to all of these advances in technology.
So what does a guy do when his charts won't work? He makes his own. While I was temporarily without the use of my Lakemaster charts, I did still have use of the "Auto Chart Live" features. So as I trolled around and over the spot we were fishing, I made my own map. It was like working on a jigsaw puzzle, the more pieces of the map that fell into place; the easier it became to pin down the best fishing areas. Over a few hours, we kept getting more and more efficient.
On Friday, walleyes were biting on Red Lake. From what we could see, most everyone was catching good numbers of fish. Most of them appeared to be using trolling presentations too, some were fishing with spinners, others were trolling crankbaits and a friend of ours was out there catching fish on Lindy's Lil' Guys.
We started with jigs and minnows and had a little bit of action, but after watching everyone else catching fish faster than us, we joined the trolling party. Little Joe Spinners rigged behind a 3/16 ounce bullet sinker and tipped with a fathead produced most of the fish we caught.
On my previous trip to Red Lake last the presentations were complete opposites of what we found on Friday. Jig and minnows combinations worked like a charm and the folks who were trolling had the slower fishing.
I guess it's a good idea to be prepared for both presentations when you go out there. Luckily, that's easy enough to do because the walleyes on Red don't seem to care much about which minnows we used for jigging. In fact I think they ate the smaller minnows better than they did the larger ones. So a couple scoops of fatheads, a handful of Little Joes and a few 1/8 ounce Lindy Live Bait Jigs have covered everything I've needed to catch fish up there so far this season.
Technically, I'm still on my Independence Day holiday, but today the Hippie Chick and I are going into semi-work mode. We've got some research to do on a new lake, plus we have some photos that we want to shoot while we have time. So we're going to pretend to be working while we enjoy the water and sunshine.

— Jeff Sundin 218-245-9858 or EMAIL
---
Jeff Sundin Fishing Report June 29, 2019 "Believing the Un-Believable" — Good Calm Water Walleye Action at Upper Red Lake
It's amazing how much influence the weather has over the timing of a fishing trip. Amazing too is how much difference there is between "good weather" for one lake vs "bad weather" for a different one.
Take Upper Red Lake for example, you can take all the rules about what would normally be "good walleye fishing weather" and throw them right out the window.
When the sun is out and the wind is calm, clear water lakes in the Itasca region make you work hard for every bite. But on Red Lake, sunshine, calm seas and warm water temperatures is the recipe for a fabulous fishing trip.
Don't let her get riled up though, the famous walleye chop that usually triggers a hot bite on most good walleye lakes will kill the action on Red deader than a door nail. The shallow water gets rough easily and when it does, the water churns into something that looks like chocolate malt and the fish scatter across miles and miles of sand flats. Finding them then is like looking for a needle in a haystack.   
Last Wednesday, we expected to find calm water on Red Lake, but it wasn't calm at all. The whitecaps were pounding the shoreline and the fish were seemingly nowhere to be found. We fished hard for 3 or 4 hours and never found a decent school of fish. We left the lake and salvaged what was left of our fishing trip by going to a lake that likes rough water.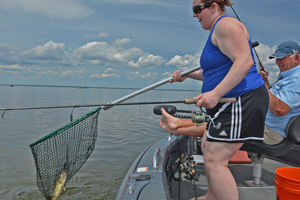 On Friday, less than 48 hours after the failed attempt, the weather was precicted to be calm, sunny and warm. I fretted about the decision to try Red Lake again because I had some of my best friends, the Danielson family, in tow. The last thing I wanted to do was trip myself up like I did last Wednesday and let them down. But luckily, the predicted weather was actually correct this time and thankfully Libby, Tina and Arne got to enjoy a nice, relaxing day on the lake.
In fact the contrast between Wednesday and Friday was so great that I can't even call this a fishing report; truthfully, it's more like a "catching report".
The reason I say that is because it didn't really matter how we fished. We spent most of our time fishing with jig and minnow and that worked fine. An experiment to see if the Lindy Lil' Guys would produce fish paid off too, we caught at least a dozen, maybe more by trolling the 1 inch size firetiger color, tipped with a night crawler behind a 1 ounce bottom bouncer. After that, we went back to jigging and caught some more.
While we were doing that, we watched folks in other boats catching fish too. One family was trolling crankbaits and catching lots of fish, a couple of other parties trolled spinners and we saw them catch a lot of fish too. There wasn't anybody using slip floats, but I'll bet that would have worked too. It was just one of those easy days when you could do anything and it worked.
There was only one down side to the calm, warm weather. An enormous hatch of some sort of tiny green bug was in full swing. The hatch was so heavy that we abandoned our first spot before we ever wet a line. The bugs would have been so thick that we'd have been miserable even if the fish were biting. Luckily, I stumbled into a decent fishing area where the bug hatch wasn't going on; that really saved the day.
It's hard for me to make promises about the weather, but looking at the forecast, I'm pretty sure that there's a return trip to Red Lake in my near future. If you're heading this way for the big holiday next week and the weather looks calm and warm, then you're chances of having a good trip on Red will be pretty good; I think.

— Jeff Sundin 218-245-9858 or EMAIL
---
Jeff Sundin Fishing Report June 3, 2019 "Fun with Dick and Paul MMXIX" Walleye Action at Upper Red Lake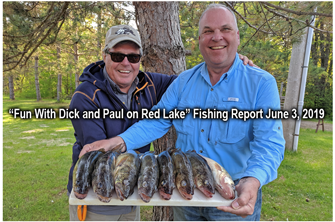 I ended my report on Sunday with; "I can either "play it safe", heading toward the good walleye bite on Red Lake, or I can take the opportunity to search for the crappies while conditions for searching are good."
That was a decision that I never needed to make because my loving and thoughtful wife intervened. "You've got all week to fish for crappies and you know that the walleyes are biting on Red lake. You should go up there and get them first and then you and the boys can play for the rest of the week."
Thanks sweetie that was a great idea, Dick and Paul think so too!
The fishing report is a simple one. There are still a lot of shiner minnows in shallow water and because of that; walleye numbers on the shallow breaklines are strong. In fact we fished over a small weed patch in about 4 feet of water and could feel our jigs bumping into the minnows; this gives you an idea how densely packed into the area they were. In a couple of instances, we actually snagged the shiners while we were jigging.
On my previous visits to the big lake, I fished primarily on the south and east sides of the lake. But since the wind has blown from the north since last Friday and was predicted to do so again, I opted to go to the north side, where large numbers of folks have been reporting good success over the past few days.
When we arrived, the crowd was already very large and didn't take long to figure out why. Walleyes were still on the breakline, they weren't super-active, but they were catchable. You could tell that most folks had been there on Saturday and were holding tight, waiting for the bite to start.
Getting off to a slow start on Red Lake is no big deal; in fact I think it's the norm. Cool overnight air temperatures force the surface temperatures down and in the morning, fish need a few hours to warm up. Sunday was no exception, as the day warmed, the action heated up and I'd be surprised to hear anybody say that they didn't do well up there.
Like I said, there were a lot of fish on the shoreline breaks, but there were a lot of people there too. For me, there were a few too many for comfortable fishing. So I decided to check out some of the more isolated rock piles that are scattered around the north side flats. That worked out to be a better plan for us.
There were probably less fish per spot, but there were at least some walleyes at every stop. The only caveat was that I had to stay shallower than 9 feet of water. As soon as we crossed the 10 foot mark, sheepsheads became the primary species. As soon as I moved shallower, we'd begin catching walleyes again.
There are quite a few folks who know where the larger rock piles are located. But if you have side imaging, then finding the smaller, more isolated spots are a piece of cake. I watch my side image and mark every cluster of rocks I see, even if they're small. Sometimes I can stop on a spot, cherry pick one or two fish and then move on to the next one.
The advantages of fishing that way are that I have a little more privacy and that the average size of the fish is typically larger. Huge schools of fish are often huge because they haven't been thinned out yet. So there's more action, but also a lot more small fish. Isolated groups of "survivors", older fish that have been thinned out have a propensity for taking up residence on the smaller, isolated spots that many of us overlook.
On one spot in particular, there was only about one bite every 15 minutes. But every bite produced a fish in the 17 to 18 inch range and as you can see in the photo, 8 of them make a darn nice limit for 2 people.  
We used my standard presentation, Lindy Live Bait Jigs tipped with minnows. We had some shiners and they worked fine, but we had fatheads too and they worked equally well. For us, 1/8 ounce jigs were fine most of the time, but when the rocks are shallower than 5 feet, switching to a 1/16 ounce is better.
At the end of any fishing day with Dick and Paul, there's gonna be a fish fry; hopefully. And since these boys have a long, long history of staying at William's Narrows Resort, it's only natural that they like stopping for the fish fry at the Gosh Dam Place where they can catch up with Molly and her crew.
We stopped there after our trip on Sunday, Saturday too for that matter and had fabulous meals both nights! Not only was the food great, but the staff, as always, was welcoming, warm and helpful. We've had a lot of fresh fish dinners there and we always have a great time.
If you've never stopped at the Gosh Dam Place to have them fry up your catch, then the next time you're in the area fishing, we suggest that you do; tell 'em Dick and Paul sent you!

— Jeff Sundin 218-245-9858 or EMAIL
---
Mort's Dock Upper Red Lake Walleye Fishing Report May 31, 2019
After a week of "fairly good" walleye fishing, warm water and stable conditions have really helped ramp up the action.
One of the local guides shared his report about the action saying; "The afternoons, when warmer temperatures took hold, had been the only time to catch decent numbers of fish. But after the cold weekend weather passed and the sun came out, we could feel the action heating up. Tuesday was better than Monday, Wednesday was better than Tuesday and by Thursday, the fishing action really heated up."
The more stable weather has allowed baitfish to settle back onto the shoreline sand flats and shallow breaklines. Walleyes, hungry to feed on the minnows are showing up on the breaklines one small school at a time and building back up into large schools.
WE had to wrap up our Shiner Minnow trapping last week, so we're not sure if the minnows are still spawning, or if they're taking advantage of the warmer water to feed for themselves. We do know that as long as the baitfish stay in the shallows, the walleye action will remain good.
After their fishing trip on Wednesday, Virgil, Travis, Jacob and Zachary Krug reported that the jig and minnow presentation they used work well. They used Lindy live Bait Jigs tipped with small shiners and fatheads. Word from the crew, at least according to Jacob was that small minnows were a key and so was the jig color; green. It's hard to argue because he definitely had the hot hand that day. The Krug crew fished the lake from 10 AM until 2:00 PM and ended their trip with filled bag limits.
By Thursday, walleye action intensified even more and the variety of fishing presentations widened. Reed Ylitalo had a crew on the lake and said; "Everybody was catching fish, grandmas and grandpas, big time pros and everybody else. It didn't matter what they were fishing with either, we saw fish caught jigging, trolling crankbaits or spinners fishing with slip floats. It was one of those days where everybody could use favorite presentations of their own choosing and be successful."
Ylitalo and his 4 man crew filled their bag limits too and noted that there were more and more fish moving in as the day progressed.
The key depths have ranged from 6 to 8 feet of water and walleyes have tended to move shallower as water temperatures have raised throughout the day.
There have been anglers finding fish on the east shore, but with the north-northwest wind coming in this weekend, there will be heavy emphasis on fishing the shallow rocks in the northeast corner of the lake. Action has been reliable in that area for a couple of days already and that corner will offer some protection from the winds, if they get too strong.
Too much wind could produce a setback over the weekend, but there no reason not to expect a speedy rebound if that should occur. Stay tuned and we'll let you know how that plays out.
We still have shiners on hand, but what we have is all we'll have for the summer. So as a precaution, give us a call before you come over for bait, just to be sure we still have them.
Good Luck Out There! — Bill Lundy, Chad Benson,
Mort's Dock
, 218-647-8128
---
---