Jeff Sundin Fishing Report June 3, 2019 "Fun with Dick and Paul MMXIX" Walleye Action at Upper Red Lake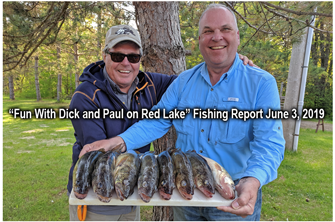 I ended my report on Sunday with; "I can either "play it safe", heading toward the good walleye bite on Red Lake, or I can take the opportunity to search for the crappies while conditions for searching are good."
That was a decision that I never needed to make because my loving and thoughtful wife intervened. "You've got all week to fish for crappies and you know that the walleyes are biting on Red lake. You should go up there and get them first and then you and the boys can play for the rest of the week."
Thanks sweetie that was a great idea, Dick and Paul think so too!
The fishing report is a simple one. There are still a lot of shiner minnows in shallow water and because of that; walleye numbers on the shallow breaklines are strong. In fact we fished over a small weed patch in about 4 feet of water and could feel our jigs bumping into the minnows; this gives you an idea how densely packed into the area they were. In a couple of instances, we actually snagged the shiners while we were jigging.
On my previous visits to the big lake, I fished primarily on the south and east sides of the lake. But since the wind has blown from the north since last Friday and was predicted to do so again, I opted to go to the north side, where large numbers of folks have been reporting good success over the past few days.
When we arrived, the crowd was already very large and didn't take long to figure out why. Walleyes were still on the breakline, they weren't super-active, but they were catchable. You could tell that most folks had been there on Saturday and were holding tight, waiting for the bite to start.
Getting off to a slow start on Red Lake is no big deal; in fact I think it's the norm. Cool overnight air temperatures force the surface temperatures down and in the morning, fish need a few hours to warm up. Sunday was no exception, as the day warmed, the action heated up and I'd be surprised to hear anybody say that they didn't do well up there.
Like I said, there were a lot of fish on the shoreline breaks, but there were a lot of people there too. For me, there were a few too many for comfortable fishing. So I decided to check out some of the more isolated rock piles that are scattered around the north side flats. That worked out to be a better plan for us.
There were probably less fish per spot, but there were at least some walleyes at every stop. The only caveat was that I had to stay shallower than 9 feet of water. As soon as we crossed the 10 foot mark, sheepsheads became the primary species. As soon as I moved shallower, we'd begin catching walleyes again.
There are quite a few folks who know where the larger rock piles are located. But if you have side imaging, then finding the smaller, more isolated spots are a piece of cake. I watch my side image and mark every cluster of rocks I see, even if they're small. Sometimes I can stop on a spot, cherry pick one or two fish and then move on to the next one.
The advantages of fishing that way are that I have a little more privacy and that the average size of the fish is typically larger. Huge schools of fish are often huge because they haven't been thinned out yet. So there's more action, but also a lot more small fish. Isolated groups of "survivors", older fish that have been thinned out have a propensity for taking up residence on the smaller, isolated spots that many of us overlook.
On one spot in particular, there was only about one bite every 15 minutes. But every bite produced a fish in the 17 to 18 inch range and as you can see in the photo, 8 of them make a darn nice limit for 2 people.  
We used my standard presentation, Lindy Live Bait Jigs tipped with minnows. We had some shiners and they worked fine, but we had fatheads too and they worked equally well. For us, 1/8 ounce jigs were fine most of the time, but when the rocks are shallower than 5 feet, switching to a 1/16 ounce is better.
At the end of any fishing day with Dick and Paul, there's gonna be a fish fry; hopefully. And since these boys have a long, long history of staying at William's Narrows Resort, it's only natural that they like stopping for the fish fry at the Gosh Dam Place where they can catch up with Molly and her crew.
We stopped there after our trip on Sunday, Saturday too for that matter and had fabulous meals both nights! Not only was the food great, but the staff, as always, was welcoming, warm and helpful. We've had a lot of fresh fish dinners there and we always have a great time.
If you've never stopped at the Gosh Dam Place to have them fry up your catch, then the next time you're in the area fishing, we suggest that you do; tell 'em Dick and Paul sent you!

— Jeff Sundin 218-245-9858 or EMAIL
---
Mort's Dock Upper Red Lake Walleye Fishing Report May 31, 2019
After a week of "fairly good" walleye fishing, warm water and stable conditions have really helped ramp up the action.
One of the local guides shared his report about the action saying; "The afternoons, when warmer temperatures took hold, had been the only time to catch decent numbers of fish. But after the cold weekend weather passed and the sun came out, we could feel the action heating up. Tuesday was better than Monday, Wednesday was better than Tuesday and by Thursday, the fishing action really heated up."
The more stable weather has allowed baitfish to settle back onto the shoreline sand flats and shallow breaklines. Walleyes, hungry to feed on the minnows are showing up on the breaklines one small school at a time and building back up into large schools.
WE had to wrap up our Shiner Minnow trapping last week, so we're not sure if the minnows are still spawning, or if they're taking advantage of the warmer water to feed for themselves. We do know that as long as the baitfish stay in the shallows, the walleye action will remain good.
After their fishing trip on Wednesday, Virgil, Travis, Jacob and Zachary Krug reported that the jig and minnow presentation they used work well. They used Lindy live Bait Jigs tipped with small shiners and fatheads. Word from the crew, at least according to Jacob was that small minnows were a key and so was the jig color; green. It's hard to argue because he definitely had the hot hand that day. The Krug crew fished the lake from 10 AM until 2:00 PM and ended their trip with filled bag limits.
By Thursday, walleye action intensified even more and the variety of fishing presentations widened. Reed Ylitalo had a crew on the lake and said; "Everybody was catching fish, grandmas and grandpas, big time pros and everybody else. It didn't matter what they were fishing with either, we saw fish caught jigging, trolling crankbaits or spinners fishing with slip floats. It was one of those days where everybody could use favorite presentations of their own choosing and be successful."
Ylitalo and his 4 man crew filled their bag limits too and noted that there were more and more fish moving in as the day progressed.
The key depths have ranged from 6 to 8 feet of water and walleyes have tended to move shallower as water temperatures have raised throughout the day.
There have been anglers finding fish on the east shore, but with the north-northwest wind coming in this weekend, there will be heavy emphasis on fishing the shallow rocks in the northeast corner of the lake. Action has been reliable in that area for a couple of days already and that corner will offer some protection from the winds, if they get too strong.
Too much wind could produce a setback over the weekend, but there no reason not to expect a speedy rebound if that should occur. Stay tuned and we'll let you know how that plays out.
We still have shiners on hand, but what we have is all we'll have for the summer. So as a precaution, give us a call before you come over for bait, just to be sure we still have them.
Good Luck Out There! — Bill Lundy, Chad Benson,
Mort's Dock
, 218-647-8128
a
---