On Lake Kabetogama, KAB Outdoors Report January 13, 2021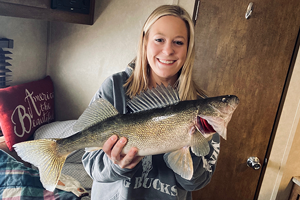 "Fishing action has improved on Kabetogama over the past week, but before we get into the ice fishing report, let's talk about travel conditions, particularly the Voyageurs National Park Ice Road.
Travel conditions on the lake are awesome for snowmobiling, the snow is deep enough to provide a nice smooth ride to and from the ice fishing spots. But drifted areas have become deep enough to rule out most off-road travel in a pickup truck, so hold off on that, it is not an option at this time. This is why we've been getting a lot of calls about whether or not the ice road is open.
So far, it is not and there is no indication that the ice road will be opening anytime soon. In fact, we're not even sure that anyone from the office has been out to inspect the landing or check the ice conditions.
Folks who are curious about the timeline for when the ice road will be open can cut out the middleman and call direct to Bob De Gross at the Voyageurs National Park headquarters in International Falls. De Gross is the one in charge of making final decisions about the road and can provide you with updates. Contact him at 218-283-6606 and be sure to leave a voice message if he's not available at the time of your call.
If we know something soon, we'll provide an update on our facebook page and of course, provide additional information here, in our fishing report.
Back to fishing, the bite has been better the past couple of days. Our graphs reveal lots of fish in water depths of 25 to 28 feet, in some areas, the activity is nearly constant throughout the day.
We've had some success using a lot of presentations but haven't seen any one of them really stand out. Aggressively jigging with loud, flashy lures like Glow Streaks calls fish into the area, but sometimes triggering a strike from them requires a 2nd rod rigged with a more subtle lure.
Maybe because of what the walleyes are feeding on, tiny, young of the year perch in the 1-inch size range, smaller lures and smaller minnows have proven to be effective this winter. While walleyes fill their gullets with tiny perch, a crappie size jig tipped with small fatheads or a couple of waxworms goes down easier than larger lures, at least that's one theory.
We are catching some walleyes on spoons tipped with minnow heads too. Glow Spoons are working, and so are some of the other proven and popular jigging spoons. Don't be afraid to experiment with a wide array of lures, it seems that offering fish more choices is a solid approach right now.
Tip ups set in 15 feet of water helped us bag some walleyes during the daytime this week too. We have rigged with larger minnows and take care to be sure that the bait is lively and swimming. Walleyes have a harder time saying no to a minnow that appears to be struggling to escape.
We haven't had a lot of folks interested in pike of perch so far. So any other fish we've caught have come along as bonus fish while we were in pursuit of walleyes.
Some of our upcoming reservations have fallen through, so you might want to take advantage of the cancellations. There will be a couple of openings this weekend and again over the weekend after that. Give us a call for an up to the minute availability assessment.
Up to the minute fishing reports are always helpful too and our staff at the store can always help with that. Whatever the fishing patterns are at the time, we have the right lures and selection of live bait to help you capitalize, so stop in on your way to the lake!" — The shelves are stocked with everything you'll need to convince those fish to bite; so be sure to stop in and let us help. For More Information >> Contact KAB OUTDOORS or Call 218.875.2281
---
On Lake Kabetogama, KAB Outdoors Report January 6, 2021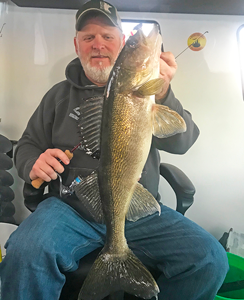 "At KAB Outdoors, 2020 was an amazing year. Despite the obvious challenges, our customers, guests, and staff all pulled together to make it an enjoyable and productive fishing, hunting, and boating season.
A growth year for us, we acquired lots of new gear, updated our fleet of rental ice fishing shelters and made a lot of progress updating the grounds and facilities. In fact, the slower-than-typical start to the ice season allowed us some extra time to make even more progress and in 2021, our customers and guests will enjoy more comfort than ever on their next visit.
That is why we're so excited to, drum roll please … RING THE OPENING BELL ON THE 2021 FISHING SEASON! Yes, that's right, the lake is locked up, our rentals are in place and customers have begun catching fish through the ice on Kabetogama.
Because of Mother Nature's tardiness in freezing the lake, pinpointing the fish has taken a little extra time, but we're beginning to zero in on some of the better fishing spots now.
Maybe it's because of the late start, or maybe fish have responded to some other natural influence, but so far, their mood has been less than aggressive. Some of the jigging baits that we typically favor during the early ice season aren't really triggering strikes.
An aggressive jigging motion will call fish in, we see them on our graphs often throughout the day. But we are actually triggering strikes and catching fish using lures that do almost nothing. In fact, we could argue that a lively shiner, on a bare hook, suspended below a slip float is the "best" presentation right now.
Trophy hunters might be interested in that because using larger than average minnows on setlines or tip-ups could produce bonus pike along with larger walleyes.
At the moment, none of the Voyageurs Nation Park snowmobile trails are open. However, there is enough snow on the lake for comfortable snowmobiling. The Voyageurs Nation Park ice road is not open either. We do not suggest attempting off-road travel by pickup truck, there are still too many potential pitfalls to make that a safe option.
We've been covering lots of ground using the Sno Bear and experimenting with depths. Kent has fished in water depths of 12 to 30 feet and everything in between. So far, there's no clear pattern, so experimentation will continue until we have to dial in key depths more specifically.
If you've never fished in a Sno Bear, you deserve to treat yourself, it's quite an experience! And this season, Kent has added a lot of new electronics, so the Sno Bear is becoming a great search tool as well. Seeing is believing, they say, so we'd love for you to come up and see the machine for yourself!
Whether you choose one of our guided ice fishing packages or check in to one of sleeper rentals, we'll be working hard to make your ice fishing trip the most comfortable and enjoyable one ever.
Oh, and if you prefer to wing it, fishing the lake on your own terms, that's great. Just remember to stop by the store for bait, lures, licenses and those last-minute items that fall through the cracks. We've got the supplies you need, and the information you want, so swing into the store and let us help!" — For More Information >> Contact KAB OUTDOORS or Call 218.875.2281
---