An Untapped Walleye Pattern For Ice Fishing Winnibigoshish? Weed Patch Walleye Pattern - Jeff Sundin
About a week ago, I stumbled into my friend Brian Castellano at the gas station. I didn't want to interrupt because, as usual, he was talking to so somebody about fishing. Brian waved me over though and asked; "have you met Chad Mertz? He, along with hif Wife Milissa are the new owners of The Pines Resort up on Winnie. He says that they've been doing pretty well on walleyes up there lately."

Mertz confirmed they had been enjoying some decent fishing up there over the past couple of weeks.
At the time I was on my way up to Lake of the Woods, but mentioned that I'd stop in to pay him a visit when I returned home. So over the weekend, I and the Hippie Chick did stop in at the Pines and chatted more with Chad, including about the walleye fishing on Winnie.
He made it sound pretty good to me, so I asked if he'd spend a day on the ice with me. He agreed to show me the ropes; we checked the calendar and set the date.
When I arrived at the Pines early in the morning, snow was beginning to pile up, it had been falling all night, and it was still coming down. Between the dark, grey sky and snow falling it was hard for me to see much on the lake, so Chad didn't even have to blindfold me. Mother Nature was protecting his secret spot for him, I was just happy that I could see the back of his Arctic Cat to follow him out. By the time we opened the door on his fishing shelter, all I knew was that we were on the lake somewhere.
As he was drilling the holes and scooping out slush, Chad confided; "This is where my rental customers have been doing their best, right here in this house. It's set up just outside of the edge of a weedbed, close to the weeds, but not in them." He added, "They either bite at 8:00 AM or else they bite at 11:00 AM and if we miss the morning bite, we have to wait until about 3:00 Pm before they start up again."
We got ourselves situated, dropped our transducers into the water and started jigging. Right on cue, I hooked a walleye at about 8:00 AM, a solid 22 inch fish that struck my Glow Spoon with authority. Chad hooked a pike, then a keeper size perch and then another nice fat 25 inch walleye. There wasn't much doubt, there were definitely walleyes roaming the edges of that weed flat.
What interested me about the experience was that by most standards Chad's location was "unusual". Most walleye anglers on Winnibigoshish head straight out onto the main lake and drill their holes along the edges of deep water structure. Sometimes those mid-lake structures are loaded with walleyes, but this winter has been on the slow side for most of them.
Could it be that these fish that Chad found were simply one of several schools that inhabit the lakes numerous weed flats? Have walleye anglers spent the winter driving over the best structures as they were heading for spots where the fish were "supposed to be"?
It's hard to know the complete answer, but I do know this; anglers who don't "know" where the fish are can often times be more likely to find a good bite. That's because newcomers to a lake don't have as many pre-conceived ideas about where to fish. They tend to try harder; they keep looking until they find fish instead of simply returning to old favorite spots, hoping that the fish will be there.
"We just kept drilling holes;" Mertz said. "We tried shallow, we tried deep, and eventually we settled on 13 to 18 feet, that's been the zone where we catch fish."
The weed flat that Mertz was fishing in Tamarack Bay is not unlike areas that can be found in all four corners of the lake. Topping out at about 10 feet of water, there are scattered patches of cabbage and other hearty grasses that survive during winter.
The outside edges of the weed beds drop off into deeper water, but not into steep, mid-lake basin areas. The breaklines are more subtle and range from about 12 feet down to 18. It may simply be that the presence of those slow tapering flats is providing more room for walleye to forage. Or it's possible that with clearer water, walleyes prefer the extra cover that the weeds provide. One way or the other, the weed pattern is and has been working for mertz and his guests.
I can't say that we picked the best day for testing our skills on Lake Winnibigoshish. All of the troubles associated with snowy, breezy weather and low barometric pressure worked against having a big numbers day.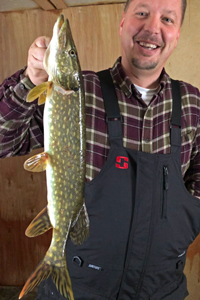 I can definitely say that it was time well spent though because it helped me see the lake through a fresh set of eyes. Fishing with Chad reminded me of when I was young and hungry, eager to learn every little detail about every spot I fished. "I've still got a lot to learn about the lake, but I'm trying;" Mertz said.
I know that there's a lot of water to cover, but from what I can see, Chad's covering it. He along with his neighbor, Jeff Stark, Tamarack Resort have miles of roads plowed and there are rental shelters strategically places along all of them. Placement of those shelters, from what I can see was not accidental, there were a lot holes drilled and tested before any of them landed where they are now.
The rental shelters are simple, but effective. We were fishing in an 8' x 10' house, the heat was on, the chairs were solid and there were fish underneath it. You won't find extravagant sleeper shelters; these daytime rental shelters get the job done, but are for folks who just want to fish. Lodging at The Pines is comfortable too, but also not extravagant, currently, there are 7 cabins open during winter for ice fishing. The Mertz' plan on opening up a couple more cabins during the winter of 2019/2020 as well.
"We're proud to offer services in an affordable price range; said Mertz. "We get comments from customers who thank us for providing a comfortable place to vacation that's within their budget; those are the folks we want to cater to. We looked at a lot of resorts before purchasing The Pines, but this resort is the one that talked to us, the one that felt like home."
If you're thinking about giving the weed patch walleye pattern a whirl, you'll need to pay the Mertz' a visit. Access to the area's they've been fishing is limited by deep snow and slush. There are no connecting roads to their network, so access by vehicle is simply not possible. In fact, I'd be nervous about travelling by snow machine right now too, there's quite a lot of slush under the snow.
Like I said though, the roads leading out of The Pines cover a lot of territory and they are in good condition. Access is open to the public for a $20 road pass fee, but access is somewhat restricted by the steep ramp at the landing. Anglers with small, single axle wheel houses generally won't have a problem, but large rigs won't work here. For a fee, anglers with suitable wheel houses can get a path plowed to a parking spot. Availability depends on ice conditions and fishing patterns so it's best to contact the Pines to discuss details prior to your arrival.
Oh and by the way, the Pines Resort delivers hot pizza to folks who use their rental shelters and access. When the fish are biting, you can ring 'em on the phone and save yourself the trouble of driving in for food.
For more information, contact The Pines Resort, Chad & Melisssa Mertz 218-246-8546 More >> Current Fishing Reports
---