"Minnesota AIS Legal System For Preserving My Prescious Shiners and Live Bait Cargo" — Jeff Sundin May 20, 2022
Paul Plinske emailed with this question. "Q) With all the talk of a limited supply of spot tail shiners this year, I was just wondering if you had any tips for keeping them alive once you leave the bait shop? They seem to sometimes die if you just look at them the wrong way.
A) Paul, you're right Spottails can be tricky to keep alive, so can some of the other popular fishing minnows like Red Tails. Your question reminds me that it's been a long time since I've written about keeping live bait alive, so I thank you for the lead into this fresh update.
In my experience, keeping minnows alive for extended periods of time involves addressing 3 main issues, the first 2, involve what the minnows need to survive: space, and environment. Space, to me, means having enough water so that my minnows are not over-crowded. Environment includes temperature, aeration, and the addition of a water conditioner. For my minnows, the importance transporting my minnows AIS LEGALLY, is the real whopper. I need a LEGAL system for getting them out of the boat, into the truck and back home where they can be properly cared for.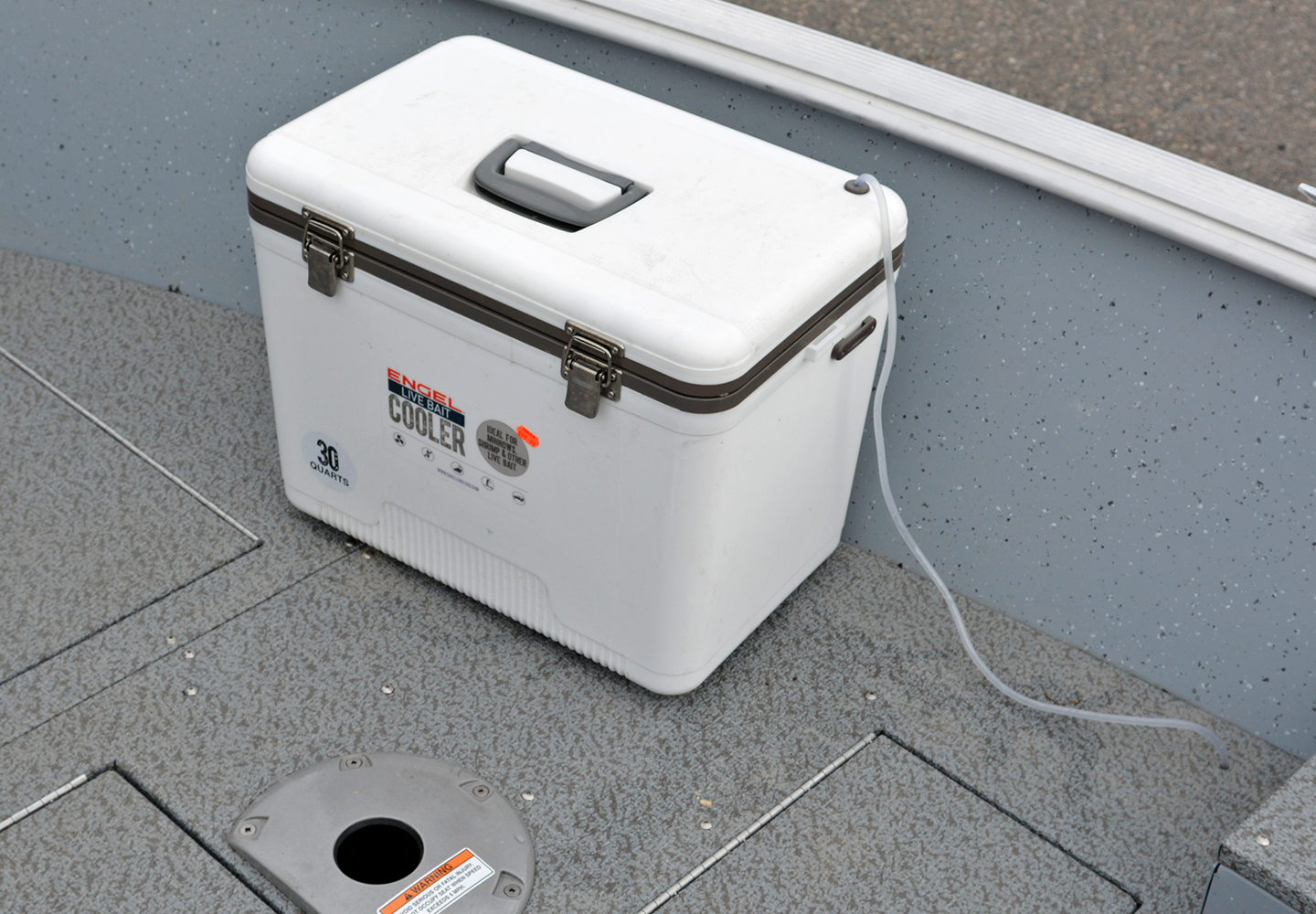 Like you, I want to protect my investment and to me, money certainly is one reason for being protective. But the cash value of my minnows is far outweighed by the value of providing my customers with high quality live bait. Now I realize that I carry a much larger than average supply of minnows, and by most folks' standards, the example system I've shown will seem large, even excessive maybe. That's okay, because today, there are more than enough retail offerings on the market so that you can duplicate the setup at any scale that works for you.
Water conditioners, for many should be the first consideration because using a conditioner turns deadly, chlorinated city water into cool, clean, life sustaining water for your spottails. I use a product called G-Juice, they are not a sponsor, and they don't give me products for free. I buy it because it works very well, but there are other brands on the market that work too, so you have choices. In metro regions, pet shops that carry aquarium supplies are always a good place to find water conditioners because most urban customers need to solve chlorinated water problems for their pet fish.
Water temperature is highly important too, cooler temperatures help lower fish metabolism so they consume less oxygen and the water in your tank will stay fresh and clean longer. In the pre–Aquatic Invasive Species era, I described making my own bait tanks using commercially available coolers as the method for keeping water temperatures lower. Today, I simply buy coolers manufactured for the purpose by Engel. These are far better suited to the job than any of the consumer coolers that I used to buy. Engel is not a sponsor either; I buy their coolers at full retail price just like you would, and I do it because their base product is good. That said, I will advise anglers who need "heavy duty" service to avoid their air pumps. They're fine for light duty use, but they are not reliable enough to suit me.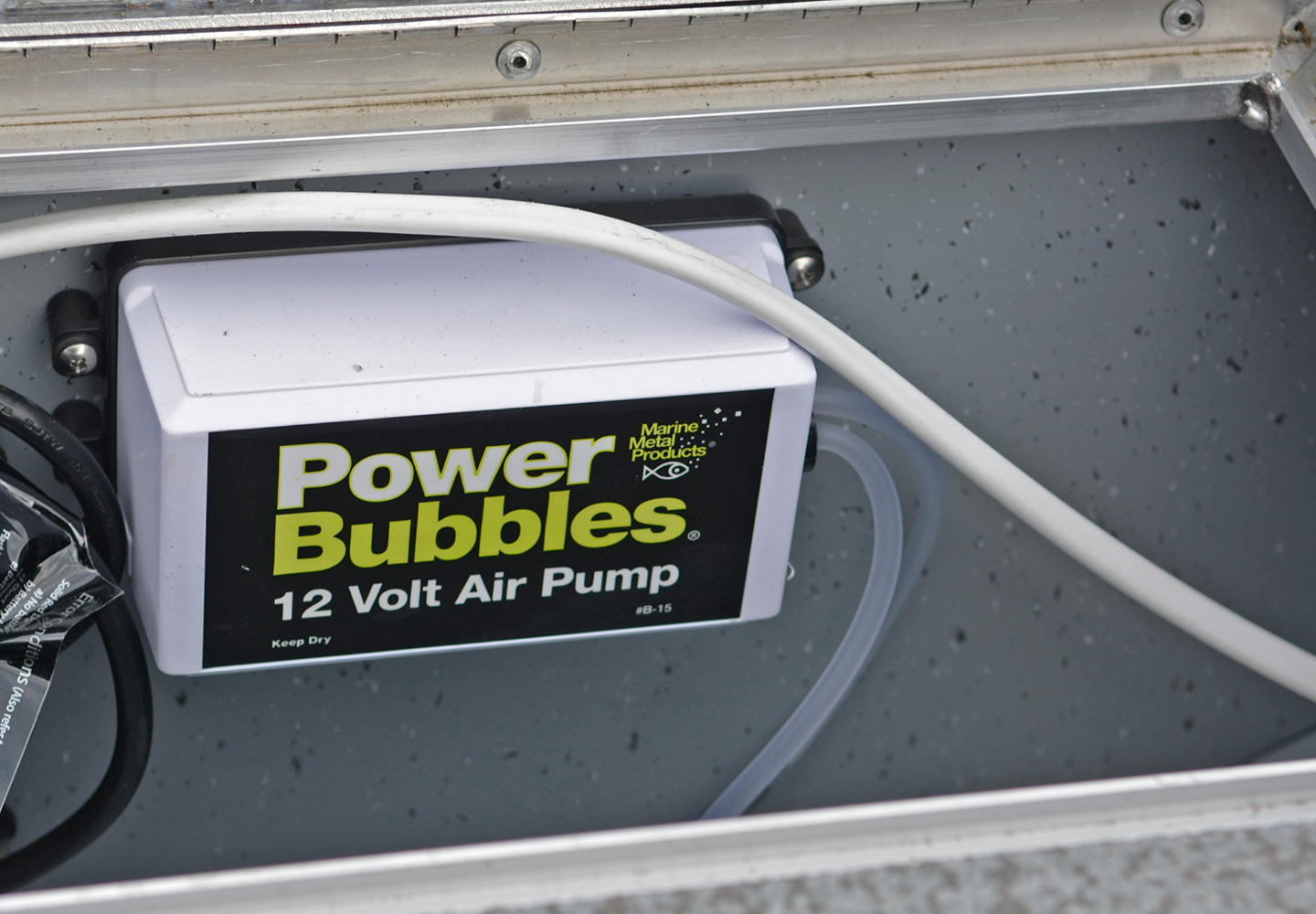 Aeration, the next critical factor in keeping live bait healthy is accomplished by installing my favorite aerator of all time, the Marine Metal Power Bubbles. The unit is essentially the same as the 110-volt aquarium pumps that you'd find at a good pet store, except this one runs on a 12-volt battery. Everything you need to hook it up will be included in the package and installation is simple. Revealed in the accompanying photos, I install mine under the deck of my boat and have it hard wired to one of the trolling motor batteries. The unit is so durable that I don't even install an on/off switch, the pump runs steadily from the fishing opener, until ice up and I've never burned one out yet.
So far, so good, I have a beautiful system for keeping my minnows alive in the boat, all day long, without ever using a single drop of lake water. But in Minnesota, I still cannot legally transport the live bait home in the boat, even if there's no lake water in my cooler. So, to satisfy the AIS inspectors, I have a 2nd, duplicate system installed in the back of my truck. I fashioned a transport device by taping an aerator and portable 12-volt battery to some recycled packaging foam. The cooler, filled with fresh water from home and conditioned with a few drops of G-Juice is used to LEGALLY transport my minnows from the lake to my garage. Water is replaced every day using fresh, conditioned tap water from my garden hose.
Some folks, like I said before, may not require a system as large as mine for the boat of for the truck. But some folks need systems that hold even more water than my portable setups. No problem, you can still make a custom size system using any size cooler you like. At home, I have another 60-quart cooler that's set up using all of the same parts described above except instead of using the 12-volt Power Bubbles, I use their 110-volt model.
Do it your own way, whether you make yours larger, smaller, or identical to mine, this system will save you money. At today's prices, my aeration system protects me from discarding hundreds of dollars' worth of minnows every summer. The money is one thing but in terms of customer service, the value to me is beyond calculation.

— Questions or Comments? Office Cell Call or Text 218-245-9858 or EMAIL
---
Bowen Lodge Cutfoot Sioux, Lake Winnie Fishing Outlook May 6, 2022
"With only 8 days remaining until the 2022 Minnesota Walleye opener, it's going to be nip and tuck. Thanks though, to the arrival of this very much needed warm spell, images of lakes that now have open water are creeping slowly, but steadily northward toward Lake Winnibigoshish and Cutfoot Sioux. We've become cautiously optimistic that our lakes, at least for the most part, will be open and accessible on May 14th!
This year, more than ever, there is good reason for anticipation of a great walleye fishing season to be high. Early data from MN DNR 2021 Fisheries surveys continue to support the widely held belief that 2, back-to-back, "dynamo year classes" of walleyes from both the 2018 and 2019 spawning seasons now dominate the population of walleyes in Winnie.
That means the population of "catchable" size fish in our system will be better in 2022, than it has been for several years. We think even better than it was when the very strong, 2013-year class ..." Read >> Bowen Lodge Lake Winnie Fishing Outlook May 6, 2022
---