---
---
Ely Area, Arrowhead Outdoors Fishing Report August 9, 2022
"Walleye: Trolling bite has been very consistent for walleye anglers. Most anglers have been trolling in 15 to 18 feet of water with shad raps. During evening hours, on lakes with ciscos, walleye suspend to chase ciscos. Here anglers are fishing with tail dancers in 20 to 30 feet down, over 30 to 60 feet of water.
For anglers who don't like trolling there has been reports of spinner rigs working. Best report have been when anglers are tipping it with leeches. These anglers are finding walleyes in 15 to 25 feet of water, around sunken islands, mouths of bays and main lake points. Hammered gold, silver, pink and blue have been top colors.
Smallmouth bass fishing remains very consistent everywhere in the Ely area. Whopper ploppers continue to be hot, hot, hot. Anglers are working shorelines, shallow flats and around downed trees. Soft plastics, spinnerbaits and in-line spinners have also been very effective in the same areas.
Stream Trout: Rainbows have continue to be active on many area lakes. Anglers have been trolling cowbells with a small crankbait trailing behind, about 20 feet down. Shoreline anglers have been having good luck fishing a night crawler 10-15 feet under a bobber, during the evening hours.
Panfish anglers continue to find active sunnies and crappies working weedlines. Small beetle spins have been very popular, along with waxies and crawlers, for panfish. Crappie have been more active during the evening hours on the same weedlines sunfish are being found during the day." — Arrowhead Outdoors, 218-365-5358
---
Wired2Fish "Finesse Hair Jig Smallmouth Bass | Best Rod Setup"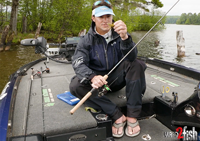 "Hair jigs catch just about every fish that swims, but there are a lot of design differences based on the target species and time of year. Wisconsin-based pro, Cody Hahner, discusses hair jigs for northern smallmouth bass: when to use and how to fish them, jig specifics, and the best rod, reel and line setup to get maximum performance from this lightweight offering.
Unlike the Preacher jigs of the south, small maribou hair jigs are more akin to flies and excel for springtime and early summer smallmouth. In particular, Hahner loves using them when prespawn smallmouth are cruising shallow flats in search of bedding sites. While you can argue they resemble natural forage: insects, leeches, crawfish, and even minnows, Hahner feels it's their super-sneaky presence and almost floating appearance that perks smallmouth curiosity and ..." View Video and Learn More >> Finesse Hair Jig Smallmouth Bass | Best Rod Setup
---
Jeff Sundin "Hiding From Wind? Try Mississippi River" August 6, 2022
I don't usually do much writing on Saturdays. For my custom content resort customers, this is "changeover day" so folks are either coming or going and don't spend much time reading their fishing information. For me, it's a morning carved out of a hectic schedule that allows me an extra few hours of sleep before doing whatever I do for the rest of the day. Today though, I do have a few timely words about fishing that could be useful over the next few days, when my reports will be spotty due to mom's funeral coming up.
Wednesday, the wind was blowing 10 to 20 MPH out of the northwest. Ken Seufert, my customer that day, has spent enough time in rough seas with me, so to ensure a calmer ride, I drove over to Four Seasons Resort on the west side of Winnibigoshish and paid to launch at their boat ramp in the Mississippi River. The fishing on Winnie was fine, as it has been, but with the good reports from Bowen Lodge August 4 and the Pines Resort August 1 already on these pages, I don't see any reason to elaborate about that.
Instead, it was Ken's question on Wednesday that provides the lead in for todays report. Looking upstream on the Mississippi River, west from Four Season's dock, he asked; "Do you ever go up the river and fish for crappies?" "Not on this stretch I said, but I have fished other places on the Mississippi and done fairly well at times. Maybe one of these days we'll give it a try", I added.
Well, on Friday, Ken and I were scheduled to fish again, and this time, the forecast wind was from the south at 20 MPH, with stronger gusts at times. This called for another defensive play, but where would we go to stay out of the breeze this time? Yes, you're right, timely, topical, and not at all a bad choice for a multi-species, mixed bag fishing trip on a windy day; the Mississippi River! You can see Ken's hat flapping in the wind in the accompanying photo, so this turned out to be a good idea.
Water conditions on the river remain high and the current is strong, but the oxbows and back bays benefit from that. Places where I have not been able to fish at all in recent years are easily accessible right now. Because of the high water, submerged weed growth is more manageable too, so getting off the main river channel and fishing weeds is more attractive than usual.
Northern Pike dominated the catch like they usually do. But we also caught crappies, walleyes, rock bass, a few perch and a handful of little largemouth bass. I was expecting to see some larger bass, and was surprised that we didn't, but we never actually pursued them intentionally. If we'd gone into the heavy cover with some Texas rigged plastic worms, we might have caught a few, we'll try that next time.
Spinners, fished over the weed tops was our primary presentation and it worked for most of the fish. But once we caught a couple of crappies, I used the spot-lock to hold us on a small, weedy point. The crappies held tight in that weed patch and we caught most of them using small jigs tipped with minnows and/or plastic tails. We caught 3 or 4 fish using the clip on floats that I talked about on …, The floats were more relaxing, they helped keep our lures above the weed tops, but the action was slower this way.
Casting spinnerbaits produced a couple of pike too. But I watched Ken using the spinnerbait and he was fighting with weeds on every cast, so decided not to make a day out of using that presentation. If you're an expert with spinnerbaits though, it is also a fun way to fish the eddies and pockets on the river. So, keep that in the back of your mind for a try as well.
Don't get the idea that you'll casually float down the river and catch fish hand over fist. We had to work at it a little, but by day's end we'd caught 9 keeper crappies, 5 keeper walleyes, couple of keeper perch and 1 sunfish. Northern Pike were plentiful, we probably caught 50 of those and they ranged in size from 10 inches, up to the largest, 33 inches. That one was too big for cooking, but there was a 27-1/2-inch pike, perfect for Susan's coconut pike delight recipe. Ken and I split that, so I and the Hippie Chick had ours for dinner last night; it was even better than usual. Hopefully, Mrs. Seufert will love hers just as much as we do.
It's not the sort of fishing trip that you can repeat every day, but all things considered; this was a great idea for yesterday. Even though it was still windy, we were able to avoid big waves, making boat control a lot easier for me. There was enough action to keep us busy for most of the day, and there were enough "keeper" fish to provide a reasonable harvest for my customer. So, if you're the adventurous type, want to try something different, think about this the next time the wind is too strong for the big lake.

— Jeff Sundin 218-245-9858 or EMAIL
---
Ely Area, Arrowhead Outdoors Fishing Report August 3, 2022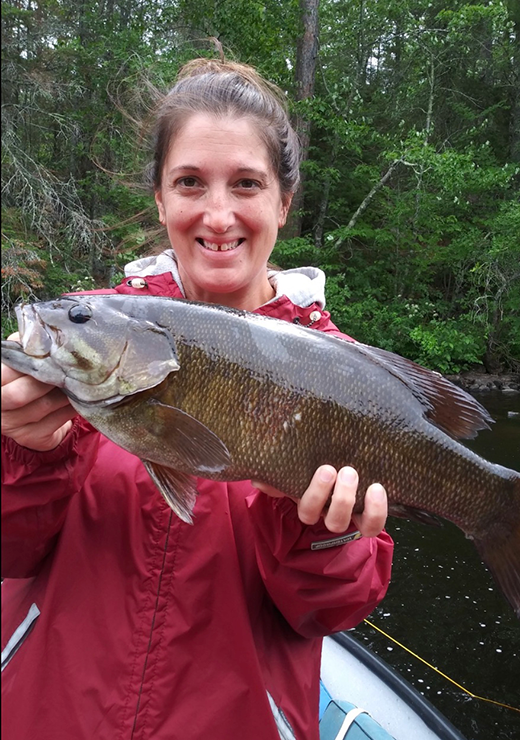 "Walleye angling has slowed for many, as walleyes have been scattered this last week. Anglers, covering ground, have been catching walleyes trolling deep diving shad raps and tail dancers. These anglers have been working weedlines, large flats and over deep water during the evenings.
Anglers continue to have luck pulling spinner rigs, tipped with leeches or crawlers. Gold, pink and silver have been popular colors right now. Anglers pulling spinner rigs have been catching walleyes in 6-9 feet of water, in and around scattered cabbage beds.
Smallmouth Bass fishing continues to be consistent biters for many anglers with a few reporting catching good numbers of 20+ inch smallies. Whopper ploppers continue to be hot, hot, hot, but effective times is largely early in the morning or cloudy days with a little chop on the water. Shorelines with large flats, down trees and scattered boulders, has been areas to target. Spinnerbaits and soft plastics have also been very effective on smallies when the topwater bite isn't going.
Crappie - Good crappie reports have been growing as we come into peak bite, for summer crappies. Anglers have been working weedlines with beetle spins and twisters. Best times have been during evenings, but anglers have been reporting catching crappies all day."— Arrowhead Outdoors, 218-365-5358
---
Lake of the Woods, LOW Tourism August 2, 2022
"As evidenced by the accompanying photo, the mid-summer walleye fishing remains excellent on the south end of Lake of the Woods. It's common to see fishing guides and resort guests returning to their respective docks with limits of both walleyes and saugers. Access to the lake is easier now too, water levels are slowly dropping and boat ramps are open.
Anglers report finding nice pods of "eater" walleyes in 12 to 20 feet of water out in front of Pine Island, near both the Lighthouse and Morris Point gaps.
It's common to hear about fish moving to the deep mud this time of year too, and they are. Key fish holding depths are 28 to 34 feet of water, fish are showing up there in good numbers. Reefs are also holding nice numbers of walleyes for folks who prefer "structure" fishing for walleye.
The top 2 presentations most anglers report are spinners and crankbaits. With spinners, most folks are using night crawler harnesses and drift fishing with them.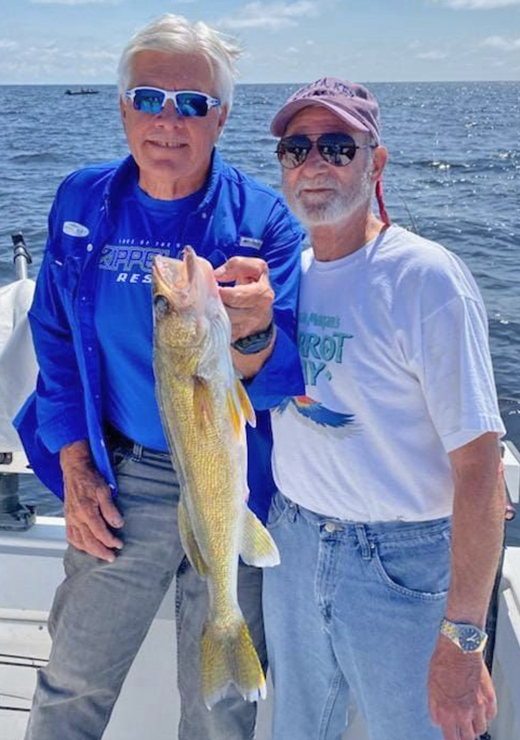 Crankbaits are trolled at faster speeds using kick motors or with bow mount electric motors. For some, jigging with a frozen shiner or fathead is still working well. Some anglers do all 3, fishing from an achored postition using jigs in the morning and then switching to trolling spinners or cranks come afternoon.
On the Rainy River, good summer fishing continues as well. With decent current, current breaks are still holding fish. Sturgeon anglers are reporting good numbers of fish. A 4 ounce weight combined with a sturgeon rig loaded with crawlers has been the set up. Big pike are feeding in bays and feeder rivers. Smallies around rocks, current breaks, bays and bridges.
Fishing has been great up at the Northwest Angle also. Most anglers are targeting walleyes, but there is a mixed bag of fish species available for anyone who likes variety. Jigging and pulling spinners have been the go-to methods.
Areas such as reefs, neck down areas with moving water and points holding fish have been best. Good numbers of walleyes on mud flats, often spread out but often in good numbers. East of Little Oak Island in the deep mud has been holding nice walleyes. Muskie anglers continue to catch good numbers of fish casting shoreline structure." — Lake of the Woods Tourism, (800) 382-FISH
---